Welcome to Sycamore Acres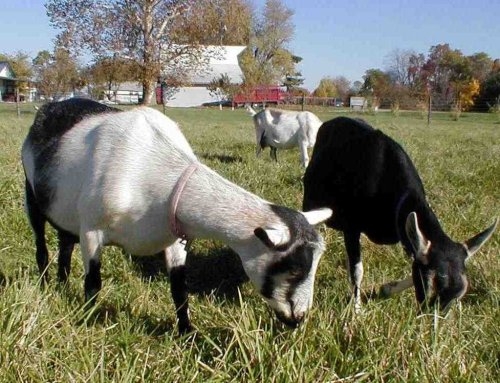 American Dairy Goat Association Registered French Alpines
Raw Goat Milk for Dogs**
Handcrafted Goat Milk Soap
Goat-related Artwork, Greeting Cards & Crafts
We are located approximately 50 miles north of Indianapolis in western Howard County. The goal for our small herd of French Alpines is excellence both in linear appraisal and in milk production. We participate in DHIR and the American Dairy Goat Association Linear Appraisal programs as tools to help us achieve this goal. We have had many does earn their Advanced Registry, appraise EX and to date, we have had eight does earn their Superior Genetics designation.
Our herd has tested CAE negative since we began whole-herd testing in October 2010. Our latest test was in February 2017. We had raised kids on heat-treated colostrum and pasteurized milk for 15 years, but due to our CAE negative status, we have begun to feed raw milk. Our herd is also abscess-free.
A non-refundable $100 deposit is required to hold a goat one wishes to purchase. We will not consider a goat sold until we receive the deposit. The deposit can be paid with a personal check if there is sufficient time for it to clear before the goat is picked up, or PayPal. The balance must be paid with either cash or money order. The purchaser has three weeks from the day the deposit is received to pick up their goat(s). A $2.00/day/goat boarding fee will be applied after the three week period. >>> In the event that someone expresses an interest in a goat or goats but would like time to consider the purchase, we will hold the sale of that goat(s) until the following day. If we have not been contacted by that interested person by 9 PM (Eastern time zone) of the following day, the goat(s) will then be available to any other interested person.<<<
One may reserve a kid yet to be born by submitting a non-refundable* deposit of $50. Please give us a first and second choice. The balance is due at pick up and must be paid with either cash or money order. The purchaser has three weeks from the day the kid is born in which to pick it up. A $2.00/day boarding fee will be applied after the three week period. We reserve the right to retain any kid. * If we are unable to fulfull your order or we decide to retain the kid in our herd, we will refund your $50 deposit.
We have obtained our commercial feed permit and are licensed to sell raw goat milk as pet milk for dogs. Milk must be ordered since we do not keep milk jugged. Please e-mail sycamoreacresalpines@gmail.com or call at least 24 hours in advance of pick-up. Pet milk is available roughly from April through December. **We have not renewed our license for 2017 and therefore will not be selling milk until further notice.**
We have for sale our farm fresh brown and green chicken eggs. Our hens are fed a high-quality diet that includes grains, seeds and vegetation. The chicken hens have all the raw goat milk they care to drink for most of the year. They also have access to the outdoors at all times.
We also sell various goat-related items in our Goat Goodies section. Included are our handcrafted goat milk soaps, all-natural udder oil, goat greeting and Christmas cards, 8X10 breed prints, a dairy goat stamp-motif poster, and goatie Christmas ornaments and magnets crafted from poplar wood.
For God so loved the world, that He gave His only begotten Son, that whoever believes in Him should not perish, but have eternal life. - John 3:16 NAS
Jesus said to him, "I am the way, and the truth, and the life; no one comes to the Father, but through Me. - John 14:6-7 NAS
But God demonstrates His own love toward us, in that while we were yet sinners, Christ died for us. - Romans 5:7-8 NAS